Compare Strategies
---
SHORT PUT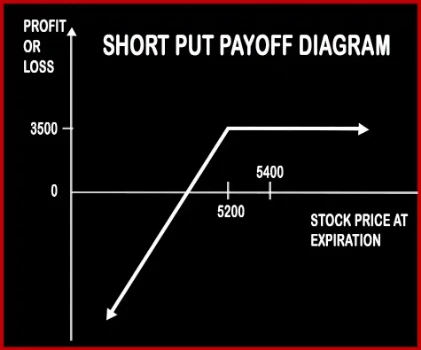 Short Put Option Strategy
A trader will short put if he is bullish in nature and expects the underlying asset not to fall below a certain level.
Risk:

Losses will be potentially unlimited if the stock skyrockets above the strike price of put.
Reward:

His profits will be capped by the premium amount received.
Example
Suppose NIFTY is trading at 5200 level and Mr. X is bullish on the market. He expects NIFTY to stay near 5200-5300 levels or even rise further until expiry. He will sell one NIFTY 5200 Put Option for a premium of Rs.70. The lot size of NIFTY is 50. Mr. X's account will be credited by Rs.3500 (70*50) which is the premium received on sale of Put option.
Case 1: If the NIFTY closes at 5400, then Mr. X will receive the maximum profit of Rs. 3500.
Case 2:

If the NIFTY closes at 5000, then Mr. X will face a loss of Rs.6500. [(200-70)*50]
Options Trading Strategies
Bullish Strategies
---
Bearish Strategies
---