Compare Strategies
---
SHORT CALL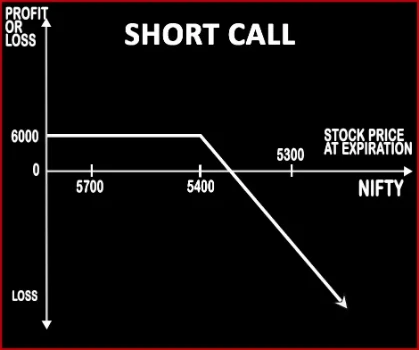 Short Call Option Strategy
A trader shorts or writes a Call Option when he feels that underlying stock price is likely to go down. Selling Call Option is a strategy preferred for experienced traders.
However this strategy is very risky in nature. If the stock rallies on the upside, your risk becomes potentially unquantifiable and unlimited. If the strategy works out in your favor then you will pocket the premium amount as your reward.
If the NIFTY is trading around 5300 levels, Mr. X feels that Nifty is likely to fall in the near future then he will sell one 5400 Call Option for a premium of Rs.120. Mr. X will get a credit of Rs.6000 (120*50) in his account for selling or writing the call option.
Case 1: NIFTY closes at 5200 levels, Mr. X will bag the premium amount i.e. Rs.6000. (120*50)
Case 2: NIFTY closes at 5600 levels; Mr. X will incur a loss of Rs.4000. [(Strike Price - Expiry Price) + Premium Price * 50] [(5400-5600) + 120)*50]
Options Trading Strategies
Bullish Strategies
---
Bearish Strategies
---