Compare Strategies
---
RATIO CALL SPREAD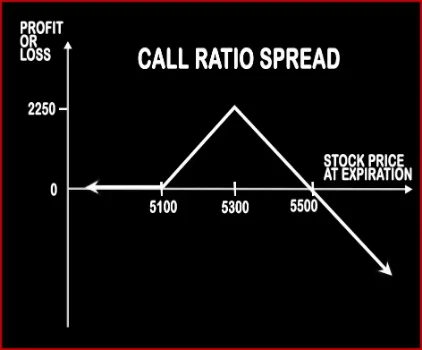 Ratio Call Spread Option Strategy
As the name suggests, a ratio of 2:1 is followed i.e. buy 1 ITM Call and simultaneously sell OTM Calls double the number of ITM Calls (In this case 2). This strategy is used by trader who is neutral on the market and bearish on the volatility in the near future. Here profits will be capped up to the premium amount and risk will be potentially unlimited since he is selling two calls.
Suppose NIFTY is trading around 5200 odd points, Mr. X is bearish on volatility and neutral on the market. He will buy 1 NIFTY 5100 ITM Call Option at a premium of Rs.165 and sell 2 5300 NIFTY OTM Call Options for a premium of Rs.110 (55*2). His net investment will be Rs.2750. [(110-165)*50]
Case 1: At expiry if NIFTY closes at 5000, then Mr. X will lose his entire investment value i.e. Rs.2750.
Case 2:

At expiry if NIFTY closes at 5200, then Mr. X will make a profit of Rs.2250. [{(55*2) + (100-165)}*50]
Case 3:

At expiry if NIFTY closes at 5400, then Mr. X will make a profit of Rs.2250. [{(300-165) – ((100-55)*2)}*50]
Comments for RATIO CALL SPREAD
Options Trading Strategies
Bullish Strategies
---
Bearish Strategies
---