Compare Strategies
---
BEAR CALL SPREAD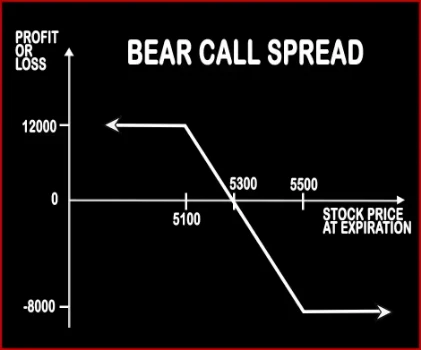 Bear Call Spread Option Strategy
Bear Call Spread option trading strategy is used by a trader who is bearish in nature and expects the underlying asset to dip in the near future. This strategy includes buying of an 'Out of the Money' Call Option and selling one 'In the Money' Call Option of the same underlying asset and the same expiration date. When you write a call, you receive premium thereby reducing the cost for buying of OTM Call Option. This strategy is also called as 'Bear Call Credit Spread' as your account gets credited at the time of entering the positions.
Suppose that the NIFTY is trading around 5300 level, and Mr. X enters into Bear-Call-Spread strategy. The Lot Size of NIFTY is 50. He buys one 5500 OTM Call Option for a premium of Rs.35, and sells one 5100 ITM Call Option for Rs.275. His account will be credited by Rs12000. [(275-35)*50]
Case 1:

At expiry, if the NIFTY closes at 5000 level, then Mr. X is allowed to keep the credit amount i.e. Rs.12000.
Case 2: At expiry, if the NIFTY closes at 5200 level, then the trader will make a profit of Rs.7000. [{(275-100) - (35)}*50]
Case 3:

At expiry, if the NIFTY closes at 5600 level, then Mr. X would have made loss on the short position of 5100 which will be mitigated by profits made in the long position of 5500. The loss amount would be Rs.8000. [{(100-35) – (500-275)}*50]
Comments for BEAR CALL SPREAD
Options Trading Strategies
Bullish Strategies
---
Bearish Strategies
---