Compare Strategies
---
LONG PUT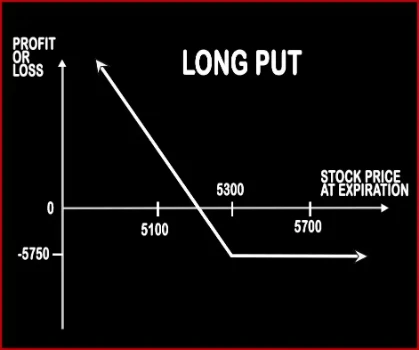 Long Put Option Strategy
This strategy is implemented by buying 1 Put Option i.e. a single position, when the person is bearish on the market and expects the market to move downwards in the near future.
Risk:

The maximum loss will be the premium amount paid.
Reward:

The profits will be limited by the maximum fall in the underlying asset price i.e. potentially null value (i.e. zero '0').
Mr. X is bearish on NIFTY and expects the market to move downwards in the near future. NIFTY is currently trading around Rs.5200 level. Lot size of NIFTY is 50. Mr. X buys 15300 Put Option of NIFTY for a premium of Rs.115. His initial investment will be Rs.5750. (115*50)
Case 1:

If the market moves as per Mr. X's expectations and dips down to Rs.5100 level, then the net profit will be Rs.4250. [(200-115)*50]
Case 2:

If the market moves upwards against his expectations then the maximum loss/risk will be the premium amount paid i.e. Rs.5750. (115*50)
Options Trading Strategies
Bullish Strategies
---
Bearish Strategies
---