Right Issues 2023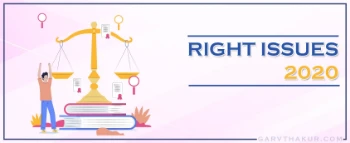 Right Issue works as an invitation to the existing shareholders in order to purchase additional shares of a company within a specific time period at a discounted price. Different from IPO, the right issue is not provided to the general public, it is provided to the shareholders existing in proportion to their existing holdings.
The shareholders that are eligible may subscribe for the rights completely or partially. They may also let the rights lapse by not opting to exercise their rights for purchasing the extra shares. They can also transfer their rights entitlements to other persons. The transfer of rights to some other persons can be done by the trading of rights entitlements on the national stock exchange that is similar to the equity shares termed as the "renunciation of the rights issue".
The rights issue provides an ample benefit to the eligible shareholders as they focus on helping them in order to receive the additional shares at the premium when compared to the Market Price. We advise our customers to study the company's performance before they subscribe to the issues as alike bonus shares, and the right issue comes with the price.
Note:
1. The buying of rights issue serves as an option to the shareholders and not as an obligation.
An individual should be the shareholder of a company as on the record date in order to qualify as an existing shareholder. Only then he will be considered eligible for the rights issue.
The rights issue can be subscribed completely or partially to other investors by making trade in the rights entitlements.
The right entitlements are provided as a different ISIN in order to differentiate from the normal equity shares by making trading in the market.
The trading of the Right Entitlement closes from 2 to 3 working days before the right issue.