Udayshivakumar Infra Limited IPO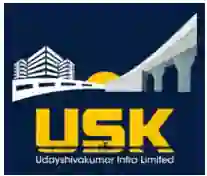 Udayshivakumar Infra Limited IPO
This Company was engaged in the Business of the Construction of Roads. Udayshivakumar Infra Limited was incorporated in 2019. This Company's construction projects like Cement, steel, bitumen, and RMC. The Company developed its core strengths in executing High Altitude, road projects, Canal Projects, Bridge projects, and Building projects.
Company Promoters:
Objects of this Issue:
• Funding incremental working capital requirements of our Company;
• General corporate purposes.
Financial Information of the Company:
Amount in Million (Rs.)

As on 31 Mar 2022

As on 31 Mar 2021

As on 31 Mar 2020

Total Assets

16,261.25

14,681.73

15,826.08

Total Liabilities

9,429.12

9,063.7

11,139.58

Net Profit

1,214.81

931.92

1,048.72
Udayshivakumar Infra Limited IPO Schedule
1. Bid or Offer Opens on: 20 March 2023
2. Bid or Offer Closes on: 23 March 2023
3. Finalization of BoA: 28 March 2023
4. Initiation of Refunds: 29 March 2023
5. Credit of shares to Demat account: 31 March 2023
6. Listing Date: 03 April 2023
Udayshivakumar Infra Limited IPO Lot Size
Market lot size of the Udayshivakumar Infra Limited IPO is 1 share. Minimum and Maximum order quantity is as follows:
Application

Lots

Shares

Amount

Retail

Minimum

1

428

₹14,980

Maximum

13

5564

₹194,740

S-HNI

Minimum

14

5,992

₹209,720

B-HNI

Minimum

67

28,676

₹1,003,660
Company Contact Details:
Udayshivakumar Infra Limited
Badavane, Near NH-4 Bypass,
Davangere – 577 005, Karnataka,
Phone: +91 819 229 7009
Email: cs@uskinfra.com
Website: http://www.uskinfra.com/
Udayshivakumar Infra Limited IPO Registrar Details:
T-34, 2nd Floor, Okhla Industrial Area,
Phase - II, New Delhi -110 020, Delhi, India;
Phone: (011) 2610 4142
Email: info@masserv.com
Website: http://www.masserv.com
Frequently Asked Question